The structure of ecommerce websites differs from that of traditional websites. This may make it difficult for you to get off on the right foot with ecommerce content writing.
Just because a potential customer lands on your online shopping website, it does not guarantee that they would buy your product.
This is where quality content writing comes into the scene.
Content for ecommerce website typically focuses on the products the brand owner is selling through the website. Clear and accurate product descriptions and blog posts can convince the customer to make a purchase from your website.
The right content can increase customer engagement and grow sales for your ecommerce brand.
To help you understand what goes into making a long-term content writing strategy for ecommerce websites, this blog post describes how to develop organic search growth by writing engaging content. It also outlines the content marketing strategies you can use to attract customers toward your ecommerce brand.
Getting Started with Ecommerce Content Writing
Content writing for ecommerce websites is about understanding your customer, what kind of content they like to consume, and where they consume content.
Understand Your Customers
First, you need to understand how your products are going to help your customers fulfil their needs. You can rely on surveys, interviews, contacts databases, or other feedback methods to attain this understanding.
Questions you ask them may include:
What combination of your products would best serve your customers' needs?

How could future products help your customers fulfill their needs?

What issues are your customers facing due to your products?

What product features do your customers find irrelevant or they do not use?
Also, offer them enough space to be able to suggest any product improvements or new product launches.
Create Content Templates
Once you understand your customers and their needs, you should start developing content templates for your ecommerce website. You may have plenty of products with similar features.
For instance, you may be selling bling bags in gold, silver, blue, pink, and green. The dimensions, material, and the weight of the bags may all be the same. In that case, content templates for the product descriptions can come in handy.
With a content template in place, you do not have to create separate listings for a long list of products.
How to Get On with Effective Content Writing for Ecommerce Websites
Your content must be able to bolster your prospective customers' trust in your products.
One way of doing that is by incorporating customer reviews and testimonials into your ecommerce content. This is because people are more likely to consider your ecommerce brand when they find your past customers satisfied with your products.
Seeing positive reviews from your past or existing customers quells any skepticism about your online store. Hence, keep posting success stories, testimonials, and comments from happy customers to validate your products to your prospects.
Using passive voice while writing sentences makes it a bit more difficult for readers to understand them. It also makes them feel as if they are reading academic content, such as a research paper or a thesis.
On the other hand, active voice makes the reader feel that you, as a writer, are in control of your ecommerce content. It makes your writing more efficient and concise, along with preventing grammatical mistakes by cleaning up the sentences.
Therefore, use active voice as much as possible in your ecommerce content writing.
Avoid Writing Duplicate Content
Copying text from another webpage when writing your product description or other ecommerce content is termed as duplicacy. You may find that writing your own content is much more difficult than using previously published content.
However, you are left with no option but to create your own content, as Google places a heavy penalty on websites that plagiarize content.
In short, Google indexes and ranks the original content, so that you do not benefit from the copied content in any way.
It is also crucial to ensure that the same content does not appear on more than one page on your website. This may pose a bit of a problem, since ecommerce websites tend to involve multiple pages for a range of products.
The presence of several products requires you to write separate product descriptions for each item, which may be time-consuming.
Nevertheless, make sure the descriptions are somewhat different, especially when it comes to similar products.
Keywords Matter in Ecommerce Content Writing
Keywords are phrases or words that people generally type when entering a query in Google. Try adding such keywords in each of your product descriptions.
For example, if your product is a metal wall art, you can include keywords like "metal art", "wall art", or "metal wall art" in the description. This is how you optimize your content for search engines, so that they can help users easily find your content.
Such Search Engine Optimization (SEO) practices can help your ecommerce website rank high on Google's Search Engine Results Pages (SERPs).
However, refrain from repeating keywords and keyphrases multiple times to avoid getting penalized by search engines.
Add Images and Videos to Your Content
Simply adding text on your ecommerce website is not enough. Visuals such as videos and images enhance your ecommerce content.
However, you should not add them wherever you want. Rather, the visuals should be added in context to your writing.
If you are selling a travel backpack, for instance, you can add relevant and visually appealing images of the product.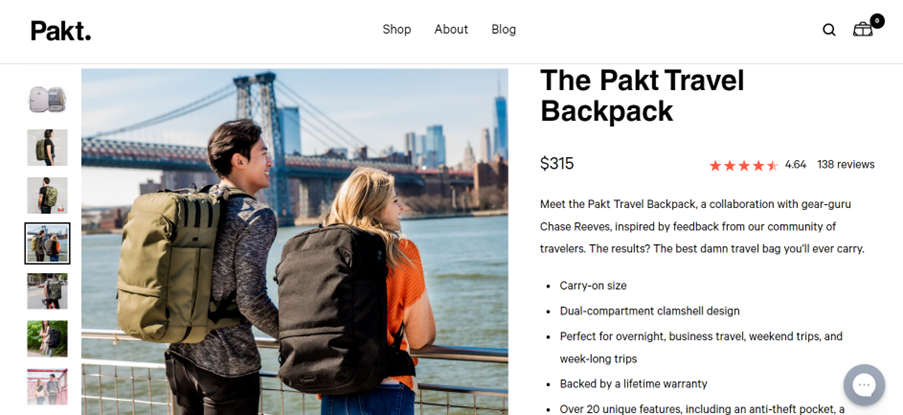 The above product description about a travel backpack contains images of not only the backpack itself but also people wearing the backpack while traveling. So, the customers can see what their backpacks might be like when they head out for a trip.
Do Not Forget about the Word Count
The longer the word count of your product description, the more informed your audience would be about your product's specifics. To Google, it would also signal your dedication to meeting your audience's needs.
Google wants people to be satisfied with the content they consume, and then it can assign a high rank to your ecommerce website.
However, the ideal length of your content depends on your niche or industry.
For example, if you have an online shopping website selling clothes, your product descriptions can be minimal and catchy.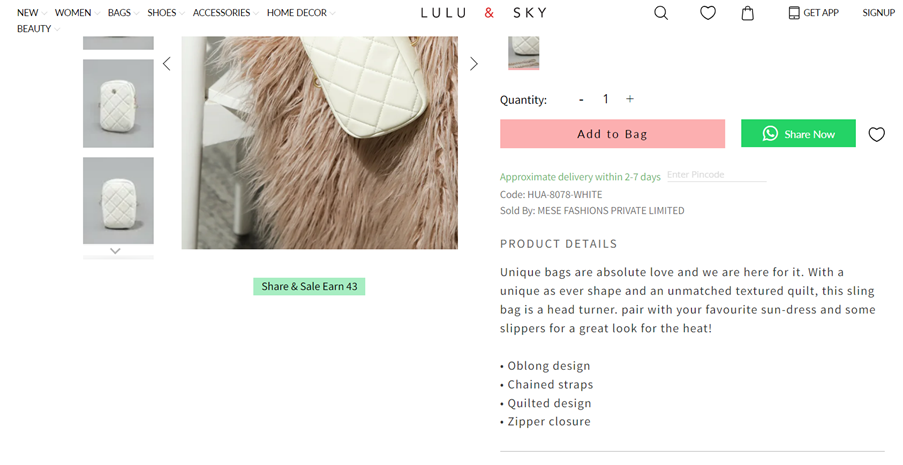 As you can see, the product description for this bag is only three sentences long and the features are written in bullet points. Even with such a short description, you can understand what the product might be like.
With an online store selling computer parts, though, your content needs to be detailed, considering the functions and other specifics of the product.
Then again, descriptions of more than 300 or 400 words may make the reader lose interest in your products. The result? Your prospective buyers may move on from your ecommerce website.
Emphasize Benefits More Than Features
You may want to put more emphasis on your product's benefits than on its features, depending on your target audience.
Whereas B2B customers prefer knowing more about product features to learning about the benefits, for B2C customers, the situation is exactly the opposite.
For example, this listing on Etsy offers several paragraphs of content before diving into the product's features. The first four paragraphs go into detail on how the customers can use the product and how it can benefit them.
One of the benefits the listing outlines is that the customers can choose the product in a color that matches with their wall color and room furniture. After that, the listing goes on to describe the product's features, including its size, thickness, and composition.
On the other hand, this listing by Berlin Packaging for B2B customers focuses on the raw technicalities of the product, such as weight and dimensions. The product description contains not more than six sentences, all of them talking about the features.
Keep Updating Your Ecommerce Content for SEO
Platforms like Google Ads can help you find out which keywords are currently trending in your ecommerce niche, such as travel equipment. This will help you maintain your Google SERP ranking by updating your published content with fresh keywords.
Always ensure that internal linking is set up properly across your ecommerce website and that there are no broken links.
Keep running audits of your online store regularly to update your old content and add new ones. That way, your ecommerce website can always feature fresh content for SEO.
Creating a Content Marketing Strategy for Ecommerce
Product guides can help your customers understand how to assemble, use, or fix your products. These are meant to educate your customers about your products, not to sell to them.
A product guide shows your customers that you care about educating them so that they can make the best buying decisions.
Writing in-depth product guides that provide valuable information to your customers and answer their questions helps build their trust in your brand. It is also a good way to inform your customers of any product updates.
Create SEO topic clusters on your blog
A topic cluster is basically a cluster of content pieces organized around a central topic. Its anchor is the content hub, or what is more popularly known as the "pillar page".
The pillar page covers all the topics and subtopics in the topic cluster and links to supporting blog posts. The rest of the webpages in the topic cluster are blog posts focusing on subtopics related to the central topic.
Each blog post links back to the pillar page, as well as link to the other pages in the topic cluster.
For example, if you are selling bags and satchels, you can write blog posts such as a list of the cheapest handbags for women, how your handbags are woven and made, tips on carrying your handbags, the best clothing styles that would go with your handbags, and so on.
Each of these posts can link to a pillar page on handbags that touches lightly on all of these topics.
Do your customers often ask similar questions about your products? Create an online resource for them so they can find the answers themselves.
Commonly asked questions may include:
How long does shipping take?

Do you deliver the product to my location?

What are the shipping costs?

What is the return policy?
As new questions keep coming up, you can go back and update your FAQ pages. This will also show the customers that you care about answering their queries, instead of ignoring them.
Build a glossary of terms
If your ecommerce niche involves uncommon or unfamiliar terms, an effective form of content marketing for ecommerce can be building a glossary.
A glossary offers a single location for your customers to know more about the language associated with your products. Of course, there may be customers who know the ins and outs of your ecommerce niche, but there may also be others who have just started to learn.
If your customers do not understand what you are talking about in your product descriptions, chances are, they are going to feel overwhelmed or frustrated and leave your website.
Writing a complete glossary can attract buyers in the awareness stage who are searching for a product-specific term.
Create detailed checklists
Make a list of all the interrelated products your customers need to order for a certain situation.
For example, if you are selling hiking equipment, create a checklist of what items to pack for a hike. If you are a kitchen equipment provider, you can provide cooking checklists in recipes on your blog.
Once the checklist is done, you can link each item on the checklist to the respective product pages.
Write product comparison pages
Another content marketing strategy for ecommerce is a product comparison page. These are essentially pages where you review and compare your products to those of your competitors.
In the consideration stage of the buyer's journey, prospective customers actively compare a handful of products to find out which one best meets their needs.
You can write comparison page content on an alternative to your competitor's product (ideally yours), or directly compare your product to that of your competitor.
This is the place where you show your customers why your products are superior to those of your competitors. You can also link to these comparison pages directly from your product pages to give your potential buyers that extra push toward making a purchase.
Conclusion: Content for Ecommerce Website
During ecommerce content writing, remember that it may be long before your website ranks on Google.
All of your blog posts, product descriptions, and other content pieces should follow the same writing style, formatting, and tone of voice to give your customers a consistent feel. Always try to adapt your writing to your customers' expectations and feedback.
However, if you cannot dedicate your time and effort to this venture, do not worry. The Professional Content Writers at MyTasker will help your brand use the middle ground between user-friendly and sales-oriented ecommerce content.
They will aid your ecommerce content marketing efforts in building a relationship between your brand and your target audience. Ultimately, this will lead to increased brand loyalty and greater revenue for your ecommerce brand.