Believe it or not, content writing is not always easy. It may involve a series of repetitive tasks, along with a large volume of work. That is why we have AI tools for content writing to the rescue.
Powered by machine learning, these content writing tools can enhance and streamline your content creation process.
This post explains why you may need these tools and details some of the best AI content writing tools out there, which are:
Jasper

CopyAI

Anyword

Writesonic

Frase

Articoolo

Grammarly

Wordtune
Let us move on!
What Is An AI Writing Tool?
An AI content writing tool is a computer program that generates content based on input from a writer or user.
Basically, the writer provides instructions to the AI tool regarding what they want the resultant content to be like. According to those instructions, the tool then analyzes similar pre-existing content from the Internet and processes that into new content.
Why You May Need An AI Content Writing Tool
There are a few reasons why content writers may consider using an AI writing tool.
First, such a tool saves you a great deal of time by generating entire articles after quickly analyzing data.
Secondly, remember that time when you kept staring at your laptop screen, forcing your brain to churn out the right words?
No matter how great a writer you are, you must have experienced writer's block at some point or the other. To come up with new ideas for your articles or headlines, an AI content writing tool can get your brain going again.
Finally, many content writing agencies and businesses frequently require bulk content, such as product pages or meta descriptions. Leaving such bulk content creation jobs to AI tools can let you focus on more pressing marketing tasks, such as lead generation.
The 8 Best AI Tools for Content Writing
1. Jasper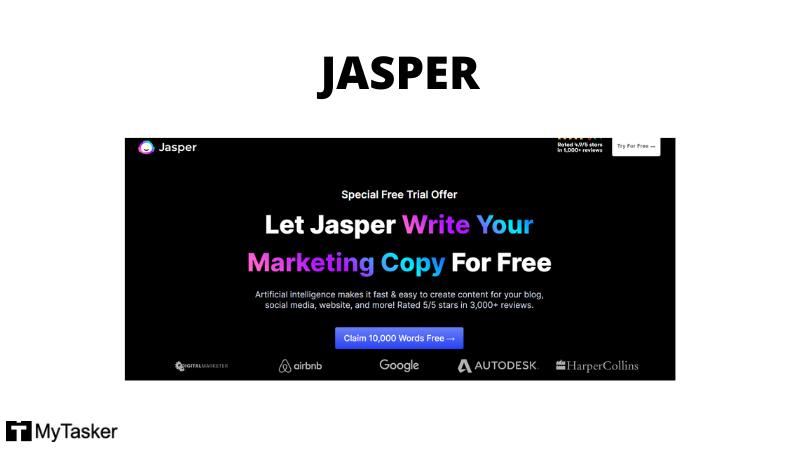 Another popular AI writing tool is Jasper (previously known as "Jarvis"). It produces blog posts, social media copies, landing pages, and other types of marketing content using natural language processing and machine learning.
It also supports 25 languages and generates completely original content, whether that is search-engine-optimized or a love letter, according to the company.
Due to its advantages, like offering a 100% money-back guarantee within 5 days, Jasper has already garnered 50,000 users and counting.
Features and Pricing
Starter (From $29/month):

Between 20,000 and 320,000 words per month, up to 5 users, over 50 AI templates, support for over 20 languages, access to short copywriting with good context, content search functionality, auto-saving content, unlimited project folders, email support, and access to their Training Bootcamp and weekly job board posts.

Boss Mode (From $59/month):

Between 50,000 and over 700,000 words per month and everything else under Starter mode, plus access to long content with great context, SEO Mode, recipes (repeatable instructions) for Jasper to follow, Jasper Commands, integration with Grammarly and Copyscape, document revision history, and access to a Jasper certification on LinkedIn.
2. CopyAI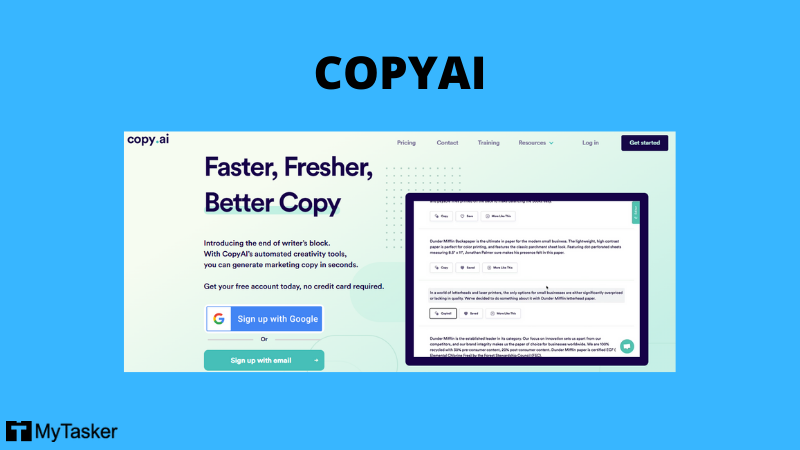 You can use this high-quality AI tool for writing any marketing copy, from sales and digital ad copies to social media content.
Copy AI's simple interface lets you start with choosing the type of content you want to create, such as a product description, slogan, meta description, or headline. Next, you can use just a couple of sentences to describe the topic, product, or service to give the tool an understanding of how you wish the content to turn out.
In the end, Copy AI will produce a list of ten options for you to select from. If you are not satisfied with the results, you can run the tool again for more options and ideas.
Features and Pricing
Free Plan:

100 bonus credits for the first month and 10 credits/month for each next month, over 25 languages and access to more than 90 copywriting tools.

Pro ($35/month billed annually or $45/month billed monthly):

Unlimited credits and projects with everything else in the Free Plan, plus access to latest features, premium community, and priority support.

Enterprise (Custom pricing):

Everything under the Pro plan, plus collaboration features.
3. Anyword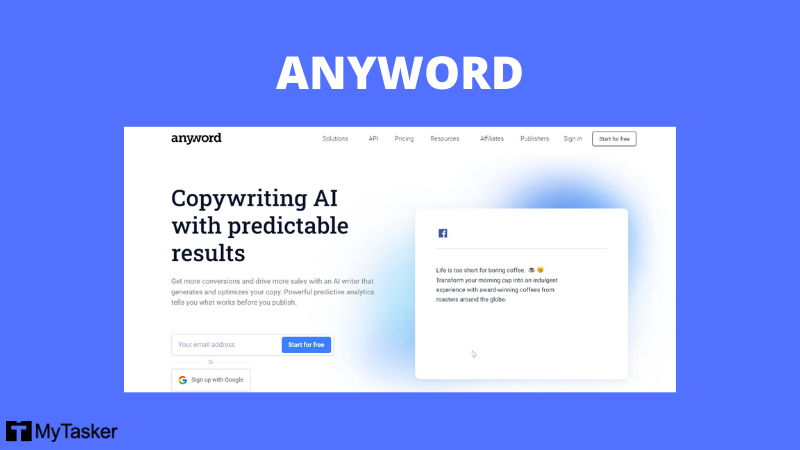 Anyword, a text generator, uses a data-driven approach to predict whether your content works or not before you hit the 'Publish' button.
One of the best AI tools for content writing, its powerful predictive analytics helps you optimize your landing pages, product listings, ad copies, blog posts, and more. All you need to do is describe your customer personas and let Anyword generate content tailored to your target audience.
You can use the platform to understand how different demographics will react to each variation of the same content. Its Continuous Optimization feature also ensures that your online content is displayed to the right people at the right time.
Features and Pricing
Free:

One user, 1000 words per month, social media content, ad copies,

outreach emails

with subject lines, Amazon and

Shopify

product listings, landing pages, predictive scores and analytics, along with chat and ticket support.

Data-Driven Basic (From $79/month billed annually):

30,000 words per month and everything else under the Free plan, plus existing content rewrites and optimization, 25 supported languages, and plagiarism-free blog posts in 10 minutes.

Data-Driven Unlimited (From $239/month billed annually):

Five users, unlimited words per month, and everything else under Data-Driven Basic, plus access to a dedicated customer success manager.

Enterprise (From $999/month billed annually):

Custom users and everything else under Data-Driven Unlimited.
4. Writesonic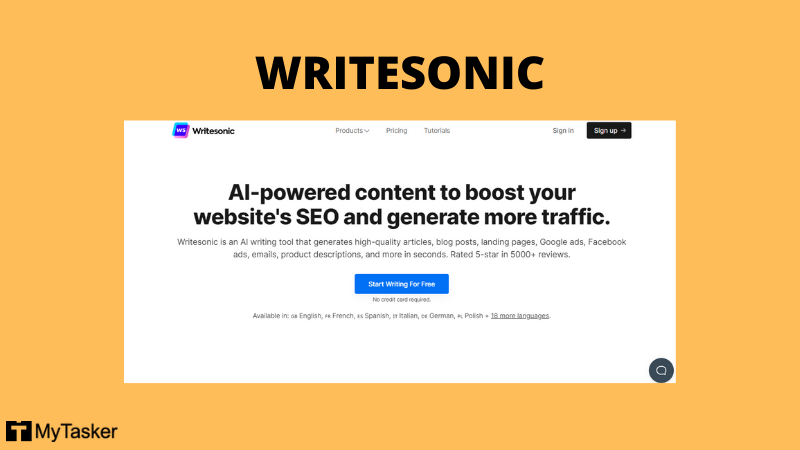 Want to optimize your Facebook ads and landing pages for ranking well on Google?
You simply need to choose a template in Writesonic and write a few lines of description. The tool will churn out multiple content samples that you can pick from. So, no more agonizing over mundane tasks such as meta descriptions or welcome emails!
Furthermore, Writesonic comes with a product description generator that can produce engaging product listings after supplying a few key details.
Features and Pricing
Free Trial:

One user, 10 credits, 25 supported languages, and all basic features.

Basic ($15/month billed monthly or $120/year):

100 credits up to 50,000 words and everything else under the Free Trial, plus access to the Long-Form Writing Assistant, browser extensions, and SEMrush integration.

Economy ($25/month billed monthly or $200/year):

750 credits up to 375,000 words and everything else under the Basic plan.

Professional ($45/month billed monthly or $360/year):

Unlimited credits and everything else under the Economy plan, catering to freelance writers.

Startup ($95/month billed monthly or $760/year):

Two users, higher quality content generations, priority support, and everything else under the Professional plan, geared towards startups and small businesses.
5. Frase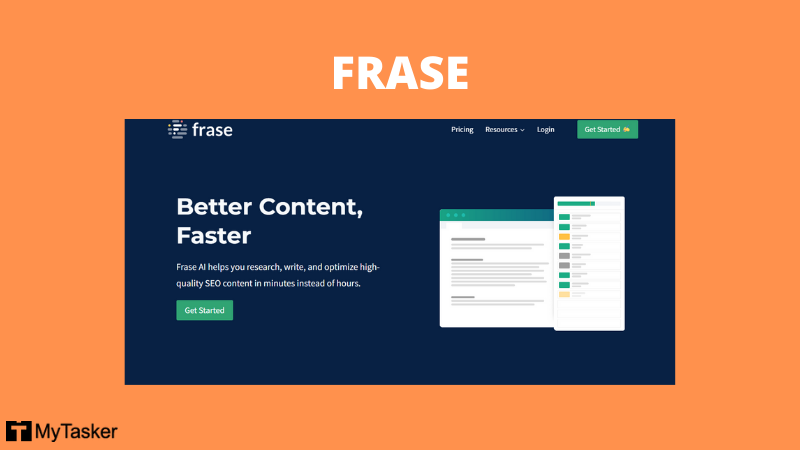 With Frase, you can research and generate high-quality SEO content in minutes. It allows you to produce content briefs and whole posts, and then optimize those for your targeted keywords.
You can leverage its AI templates for blog posts, headings, FAQ sections, and more. Its automatic passage rewriting and paraphrasing helps improve your content writing quality.
If you are working with a team, you can organize your documents into different project folders and share documents with writers, irrespective of whether they are using Frase or not. When your writers complete their assignments, they can update the project status to let you know.
Plus, Frase's integration with Google Search Console assists you in identifying content gaps and limiting content decay. Like Jasper, Frase also offers a 100% money-back guarantee within 5 days.
For an additional $35/month, its SEO Add-on feature unlocks monthly keyword search volumes, informational and commercial keyword modifiers, access to backlink data for top search results, and unlimited access to the Frase AI Writer.
Features and Pricing
Basic ($39.99/month billed annually or $44.99/month billed monthly):

One user and 30 documents.

Team ($99.99/month billed annually or $114.99/month billed monthly):

Three users with $25/month for every additional user and unlimited documents.

Enterprise (Custom pricing):

Unlimited users and documents.
6. Articoolo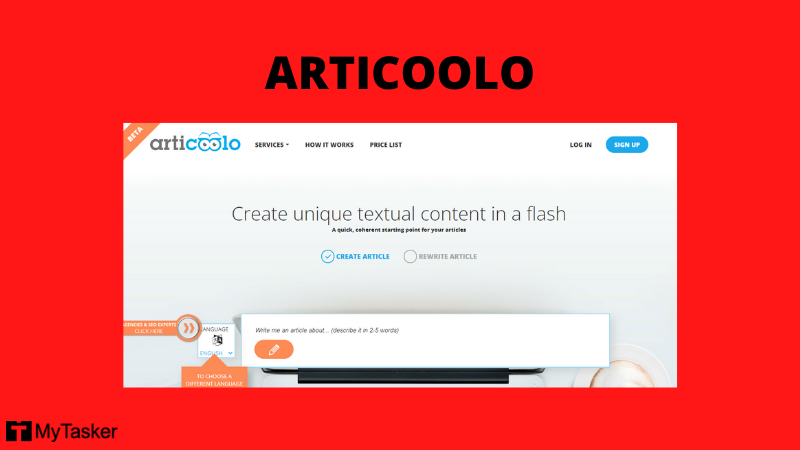 If you are running a WordPress website or blog, you may consider using Articoolo. This AI writing tool helps you generate content faster than usual. It is also available as a plugin in WordPress.
You can use the tool to not only create new content but also rewrite your existing posts published on your website or blog.
When you find yourself running out of ideas for your articles, Articoolo's title and topic generator can come in handy.
Features and Pricing
Pay per use:

$19 for 10 articles, $75 for 50 articles, and $99 for 100 articles.

Subscribe and save:

$29/month for 30 articles, $49/month for 100 articles, $99/month for 250 articles.
7. Grammarly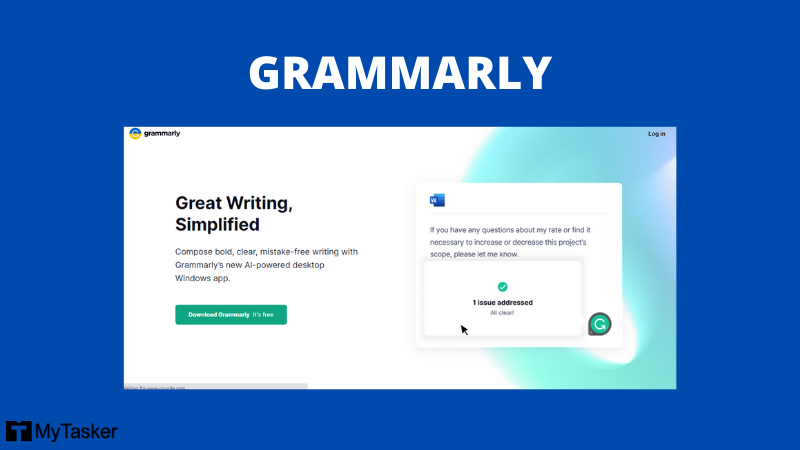 Who has not heard of Grammarly in the writing world? While it cannot generate entire long-form articles, it is able to enhance your blog posts by improving their readability.
More specifically, Grammarly checks for correctness, conciseness, clarity, and more. This makes it a great AI proofreader that is valuable to any web content writer.
Installing Grammarly's browser extension will help you write better blog posts, articles, emails, essays, and documents.
Features and Pricing
Free:

Access to basic writing recommendations as to the spelling, grammar, and punctuation; one user, conciseness checks, tone detection, and individual accounts.

Grammarly Premium (From $12/month):

Everything under the Free plan, plus plagiarism detection and checks for fluency, consistency, formatting, sentence variety, compelling vocabulary, politeness, and formality level.

Grammarly Business (From $15/month per user):

Everything under the Premium plan, plus more than 3 users, style guides, brand tones, snippets (reusable phrases, sentences, and paragraphs), analytics dashboards, and priority email support.
8. Wordtune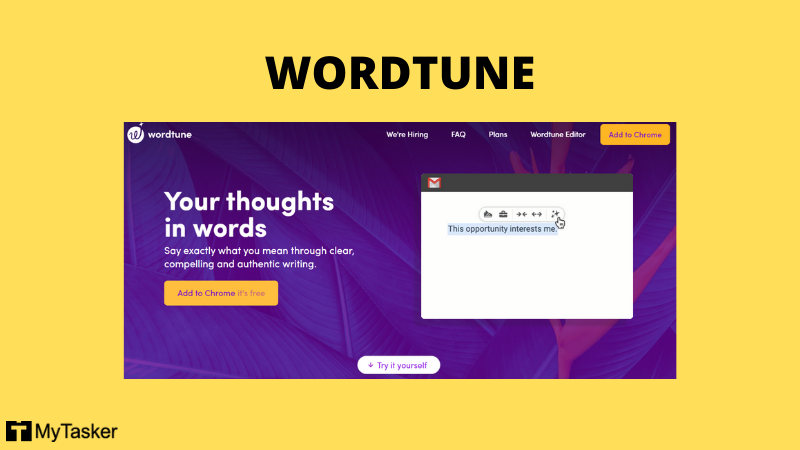 If you want to rephrase your content without compromising on its quality, tone, context, or flow, Wordtune is your go-to AI writing tool.
No matter what kind of content you produce, it needs to be composed of clear and compelling words that can engage your audience.
However, too many content writers get frustrated when faced with several options for word or sentence structuring. Not anymore!
Wordtune can help you come up with ideas to repurpose your content across different platforms, such as social media networks, blogs, or video marketing channels. Adding its Google Chrome extension lets you use it across Google Docs, Twitter, Gmail, Slack, WhatsApp Web, LinkedIn, and even Grammarly.
Features and Pricing
Free:

10 rewrites per day.

Premium ($9.99/month):

Unlimited rewrites, tone selection, text length changes, and premium support.

Premium for Teams (Custom pricing):

Everything under the Premium plan, plus a team billing feature.
A Wrap-Up
Now that you know some AI tools for content writing, it is time to streamline the content creation process for your brand.
Keep in mind, though, that with AI content generators, the learning curve would be quite high, at least in the beginning.
Also, the content produced by these tools lack a human touch. You may still need a human editor to edit the repeated phrases or irrelevant content that such tools produce at times.
If you want help with your content without sacrificing human emotions in your marketing, get in touch with the Content Writing experts at MyTasker. They can craft posts and articles that reflect true creative thoughts. If necessary, they can also use AI tools to supplement their writing and generate more leads for your business.