If you have an Instagram business account, you may think the small bio on your page does not matter at all. However, your bio provides an overview of your business to your potential and existing customers. To achieve that, you need to know how to write an effective Instagram bio.
Here is an overview of the tips mentioned in this blog:
Optimize your name

Highlight your target audience and skills

Insert appropriate keywords

Add relevant hashtags

Include and optimize your profile link

Share your contact information

Add a compelling CTA

Show off your brand personality
Let us now take a deep-dive into what an Instagram bio is, why you may want to look into it, and how to make an Instagram bio attractive.
What Is An Instagram Bio?
An Instagram bio is the description under your username on your Instagram business or personal profile page. The description is made up of 150 characters portraying your brand personality.
This figure does not give you much opportunity to play around with words, which is why it is vital to learn what to write on your Instagram bio.
Why Does Your Instagram Bio Matter?
Before you learn how to write a good Instagram bio, you should know why you may need a good bio in the first place.
For starters, an Instagram bio shows people:
Who you are

What you offer or sell

Why they should care about your offering

Why they should care about your business
If someone discovers your business through an Instagram hashtag or a paid promotion post, your bio is going to be the first point of contact for them.
This means that it needs to make a good first impression on visitors to persuade them to follow you or share or save your posts.
How to Write an Effective Instagram Bio
1. Optimize Your Name
The first step toward creating an effective bio for Instagram is to optimize your Instagram name for search queries.
For example, if you are in the digital marketing industry, you may write your name, followed by your profession or job title. This helps people find your account easily when they search for you on the social platform.
In the image below, you will see that the entrepreneur has included her occupation as an online business expert right after her name:

Doing so makes her profession stand out so that searchers can easily find her on Instagram. Even when a user searches for "online business" or "business expert", her profile is more likely to appear in the Instagram search results.
Moreover, both her Instagram name and bio give a brief idea to visitors about what she generally posts on the platform.
2. Highlight Your Target Audience and Skills
Your Instagram bio description should contain what your business does and whom it caters to. Take a look at what HubSpot does with its Instagram bio:

They explain what they do, that is, "build remarkable customer experiences with a CRM platform that's designed for scale". Then, they mention, "we help companies".
From this bio, you get the idea that HubSpot is targeting companies that want to scale their customer relations.
So, new visitors who are looking for a CRM platform may find it useful to follow HubSpot's Instagram account.
However, users who are looking for something else for their business may choose to overlook HubSpot's offering for the time being. In other words, visitors will know right away whether they are going to get value from HubSpot or not.
3. Insert Appropriate Keywords
The more targeted keywords you use in your Instagram bio, the more like-minded people can find you and follow your account.
For instance, someone in the culinary industry can add keywords such as "vegan recipes", "home-baked", or "food blogger" in their Instagram bio.
Not only does this practice help improve your searchability but it also gets across your business' purpose at a glance. This is crucial when the amount of characters you can insert in your bio is limited.
Take Hootsuite's Instagram account, for instance. They use relevant keywords in their bio, such as "social media experts", "partner for social", "commerce", and "customer care".

Think about your target audience and what their pain points are. Based on those pain points, what kinds of posts may resonate with them? When you think of the broad topics of the posts, you can come up with appropriate keywords to use in your Instagram bio.
Using keywords related to your industry as well as your target audience will help visitors better understand what you offer and whether your product or service is going to fit their interests. It is only when they find you're offering relevant to their interests that they may decide to follow your account.
Take a peek at how Triple Deke uses keywords such as "content", "hockey", "skill sessions", and "development" in their bio to connect with more like-minded people: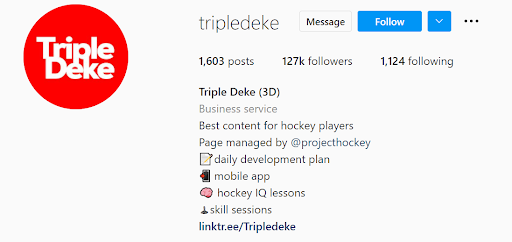 4. Add Relevant Hashtags
Inserting hashtags in your Instagram bio will let you direct your visitors and followers to your User-Generated Content (UGC) space.
You can see how Sleepwell decided to use branded hashtags like #Sleepwell and #SwitchtoSleepwell for collecting and curating content posted by their users:

As an alternative, branded hashtags can be used in your Instagram bio to promote a product launch, a contest, or a certain campaign. This can help drive customer engagement with your business.
Xiaomi Global does this by promoting their new Xiaomi 12 series with the hashtag #MasterEveryScene:

5. Include and Optimize Your Profile Link
Instagram allows you to add a clickable link in your bio, so make the most of this feature. A profile link will direct your customers to your ecommerce website, blog, video, online store, landing page, a list of your social links, or other relevant content.
In short, since it is easy to find, it is a great way to drive traffic to your website or store from Instagram.
6. Share Your Contact Information
If you have an Instagram business account, you can add your contact information in your bio. This information includes your address, email ID, and phone number.
Adding this information makes it easier for your followers or new visitors to reach out to you in case of an inquiry.
Luckily, contact information does not take up any character space in your Instagram bio, either.
7. Add a Compelling CTA
When learning how to write an effective Instagram bio, you also need to know how to write a call-to-action (CTA) for the bio.
The best practice here is to insert a direct CTA. It not only takes up less character space in the bio but also tells the visitor or customer exactly what you want them to do when they visit your Instagram profile.
You can invite them to shop from your Instagram feed, visit your website, watch your video, send you an email, follow you on Instagram or other social networks, or download your ebook - there are CTA options aplenty.
For instance, these education consultants feature an emoji CTA in their bio that literally points to the link to their masterclass:

8. Show Off Your Brand Personality
Your Instagram bio is an excellent place to display to your customers and prospects your brand personality.
More specifically, your brand personality includes the tone and the kind of language you use to put forth your ideas, opinions, and creativity in front of your customers and visitors.
For example, Coca-Cola uses a fun and creative tone while fitting their bio description into a short, seven-word sentence.

You may also come across some businesses that add emojis in their bio if that fits their brand personality. Boat's Instagram bio is a perfect example of this:

Conclusion: An Effective Bio for Instagram
It takes a lot of time to learn how to write an effective Instagram bio. It may take you even longer to create one.
You want to create not just any bio, but a valuable one that will tell your customers and followers what you want to say and what you care about. Therefore, investing some time and effort in the process is worthwhile.
What if you are too busy running your business operations, though? No worries! Reach out to the Social Media Marketing professionals at MyTasker. Apart from writing and optimizing useful bios for your business in Instagram, they can manage your social media accounts to garner relevant followers or customers for your business.
Most importantly, they can help your brand personality shine through your Instagram and other social media profiles to grow and evolve your business.